Summer is coming to a close but there's still time to spend some quality time outside with your child!
Looking for a fun and engaging way to play outside with your kids that are different from just the regular playground or walks?
A nature scavenger hunt! Simply go to a park, a lake or a simple walk around your neighborhood. We've even developed a scavenger hunt printout of items they need to find throughout the quest! Whoever fills up the card first wins a fun prize. Who doesn't love fun prizes? Your kids will remain engaged in the nature walk while adding a sense of healthy competition. 
While partaking in your nature scavenger hunt your child will work on enhancing their observation skills. Nature walks encourage your kids to use all of their senses even if they don't realize it! This scavenger hunt is a fun way to exercise, potentially meet a new friend (the little critters they can find!), encourage curiosity, and be extra observant. However, it's been incredibly warm lately so be sure to practice summer safety tips we listed in our Fun and Safe Summer Sun blog post.
When your child has found all the items, have them save some (for example a leaf or flower) to bring home because the fun doesn't have to stop! Once you're inside grab some crayons and have your child place their finding under the piece of paper provided. Then simply rub the crayon on the sheet in the spot with the item below it. After a few seconds they will have created a wonderful print of the object on the sheet!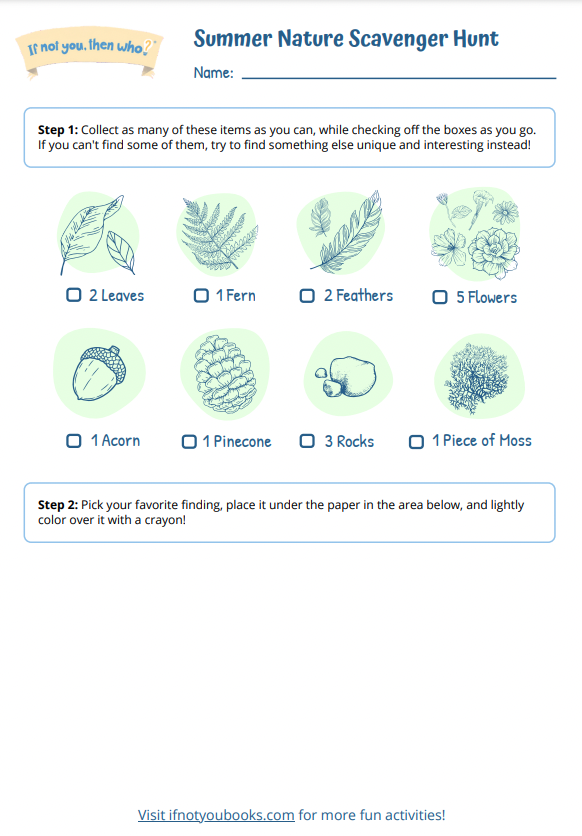 If you're looking for some additional fun STEAM activities that you could do with your child check out the activities on theyounginventorsclub.com – not only is there a dashboard filled with great activities but every month new blog posts are released with even further content!