The summer is a great time to play outside and enjoy time with the family. As children nowadays spend a lot of time in front of screens it's important to also encourage them to enjoy the outdoors. Whether you're on a trip or you're just in your own backyard there are so many fun activities you can do! 
Learn about the Invention: The Beach Ball
The beach ball was invented by Jonathan DeLonge in 1938. The earliest beach balls were about the size of a hand with six panels that switched in color between white and bright colors. Beach balls became popular after they appeared in beach movies in the 1960s and now they are available in many different sizes, colors and patterns! 
Looking for fun activities to do this summer?
Enjoy Nature through one of the following activities:
Learn about the world
Encourage your child to find items outside to learn about and research with them to find out more! Learning about the world is a great way to spend time outside while continuing to expand their knowledge.
Backyard camping
Set up a tent in your own backyard and sleep outside with your kids. If you don't want to sleep outside then just have them play outside in the tent during the day! It can be their new fort for the day!
Visit a park
Go to a local park for fun nature walks, birdwatching or even set up a mini scavenger hunt for your children to complete – it's a great way to get them outside and in nature.
Paint rocks
In today's world there are so many hurtful messages out there so why not encourage your child to spread positivity by painting rocks with images and positive messages to place around the neighborhood?
Create your own game!
Meet up with friends at the playground and encourage them to make their own games! Have everyone bring a toy or game to combine into one big NEW game with new rules. This will help foster creativity and encourage them to spend more time outside getting some fresh air. If you're not sure what kind of a game to create, check out the third book in our series: Let the Games Begin! For some additional inspiration!
Get out there and have some safe fun in the sun this summer!
Quick summer safety tips: 
Some important quick tips to remember while you and your #younginventor are having the best summer ever: 
Limit sun exposure from 10am-4pm as the UV rays are most intense in these hours, stay in the shade whenever possible. 

The intensity of activities that last 15 minutes or more should be reduced whenever heat and humidity reach critical levels.

Both on sunny and cloudy days use sunscreen with at least SPF 30 to protect against the UV rays. 
In addition to getting outside, summer is a great time to continue to build your #younginventors knowledge. Word searches are a great way to build word recognition, assist learning with context clues, develop pattern recognition and more! Here's a fun summer themed word search for your child to try!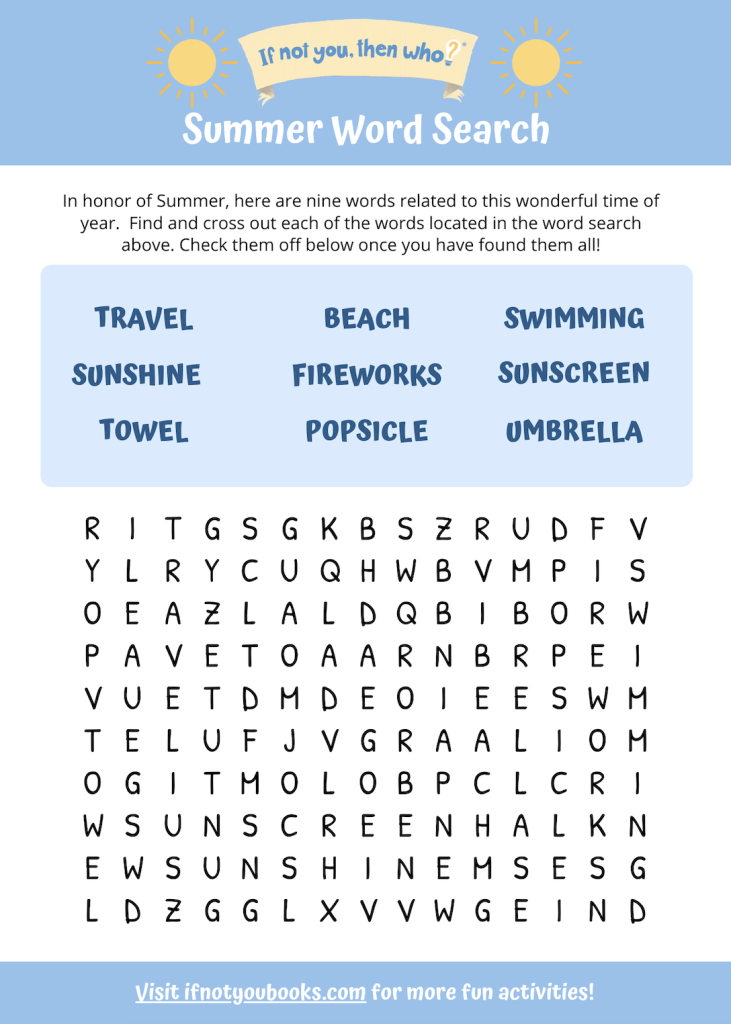 If you're looking for some additional fun STEAM activities that you could do with your child check out the activities on theyounginventorsclub.com – not only is there a dashboard filled with great activities but every month new blog posts are released with even further content!