May is a month full of family holidays, from Mother's Day to International Families Day, that consist of celebrating and spending time together. Need ideas for some fun activities to do with your #younginventors?
How about: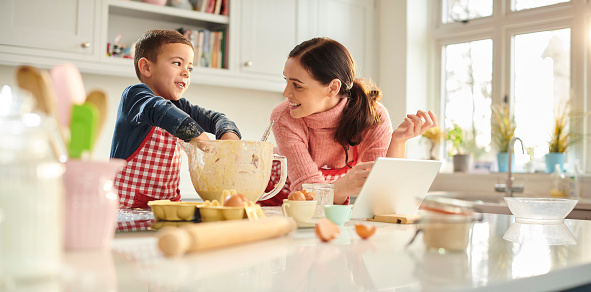 Bake Delicious Cookies With Mom For Mother's Day!🍪💖
#Younginventor's don't have money to buy gifts, but they are able to give us the most precious gifts: their love and their time! This year for Mother's Day spend some quality time with your #younginventor and focus on making memories that will last a lifetime. A special way to do this is setting some time aside to bake yummy treats together. 
Why You Should Bake With Your Child
Baking with your child has numerous educational, physical, and health benefits for them. These include the ability to practice bilateral coordination, developing their fine motor skills, family-bonding, and improving their language and reading skills.
Did you know that Baking also relates to S.T.E.A.M.?
How Baking Relates To S.T.E.A.M.
Not only are treats fun to make and fun to eat, but did you know baking involves S.T.E.A.M. skills? That's right there's plenty to study and learn when it comes to baking. There is a lot of science that goes into creating the everyday foods that you love.
Baking exposes your #younginventor to measurement systems which is a critical skill in many STEAM subjects such as engineering and math. Have your child help you measure out your ingredients! Baking can also provide your child with exposure to critical thinking skills as they can utilize the recipe to learn how to evaluate and apply information (if your child is old enough have them read the instructions to you!).
Easy Kid-Friendly Chocolate Chip Cookie Recipe
Ingredients:
2 1/4 cups all-purpose flour
1 teaspoon baking soda
1 teaspoon salt
1 cup butter, softened
3/4 cup granulated sugar
3/4 cup packed brown sugar
1 teaspoon vanilla extract
2 large eggs
2 cups Semi-Sweet Chocolate chips
1 cup chopped nuts (if omitting, add 1-2 tablespoons of all-purpose flour)
Directions:
Preheat the oven to 375° F.

Combine flour, baking soda, and salt in a bowl.
Beat butter, both sugars, and vanilla extract together in a separate bowl until creamy.
Add eggs (one at a time) and mix well after each addition.
Gradually add in flour mixture.
Stir in chocolate chips and nuts (if used).
Use a tablespoon to drop dough onto ungreased baking sheets.
Bake for 9 – 11 minutes.
Enjoy!
Don't want to lose this recipe? Download our FREE and printable recipe card PDF.  

Enjoy This Fun Family Drawing Game For International Day Of Families!💖👨‍👩‍👧‍👦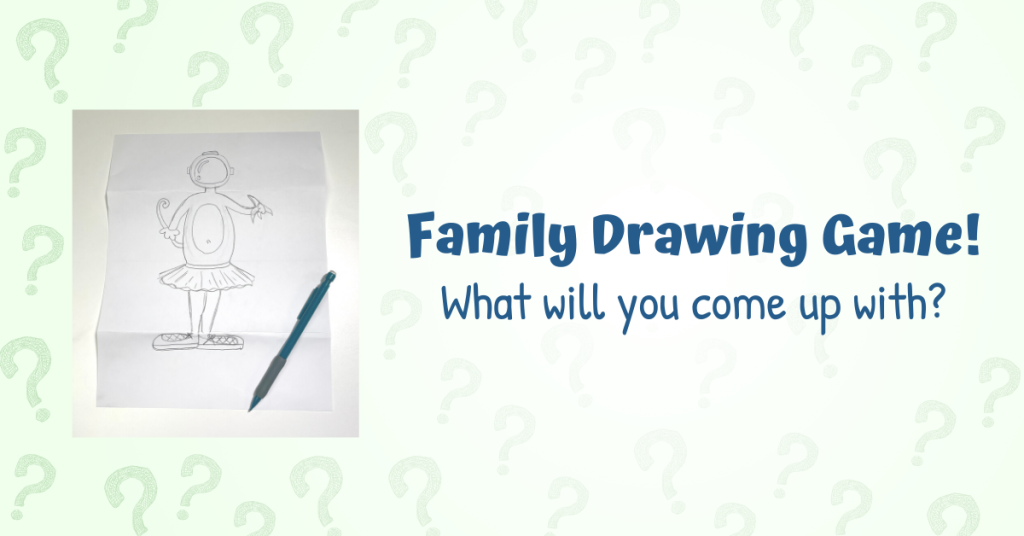 Did you know that International Day Of Families is on May 15th?
This day was created by the United Nations as a way to recognize the impact families have on the world. Families are the foundation of society, as our most formative years are spent with them and many of our beliefs have been instilled by them. In specific, the UN created International Day of Families to promote the importance of a well-balanced and healthy family.
A key factor of maintaining balance and health in a family, both emotional and mental, is spending time together! A great way to do this is through playing games together as a family, which provides your child with endless benefits. Your child can learn a variety of skills such as turn-taking, teamwork, and patience all while having fun!
We've got the perfect game in store for you that is sure to bring on the laughs and is fun for all ages!
What You Will Need:
Paper
Something to draw with (pen, pencil, crayon, etc.)
Directions:
Fold a piece of paper into four equal sections – hamburger style!

Re-fold the paper so only the top panel is visible for the first player to see.

Please Note:

Before drawing, explain that each panel doesn't have to match — everybody can doodle in their own style! 

Have the first player draw a head on the top most panel. Once finished, this player folds the paper so only the next section is visible and then passes the paper to the next player.

Tip:

Make sure you note where the neck ends so that the next player knows where to place the shoulders

This player draws the shoulders and torso and then folds the paper so the next blank section is the only one visible.

Tip: Make sure you note where the torso ends so that the next player knows where to place the waist and legs

The next player draws the waist and legs, then folds over the paper so only the shoes are visible and finally passes it to the next player.

Tip: Make sure you note where the legs end so that the next player knows where to place the feet

The next player finishes the drawing with the feet.
Once your drawing is finished, unfold it and enjoy your creation!

Play again!

Tip: for extra fun add another fold to the top for a hat!
This activity was inspired by PBS Kids.
Bonus Activity: Here's a FREE PDF Activity where your children can draw their family! This fun activity gives you insight into how your #younginventor sees themselves and their family.